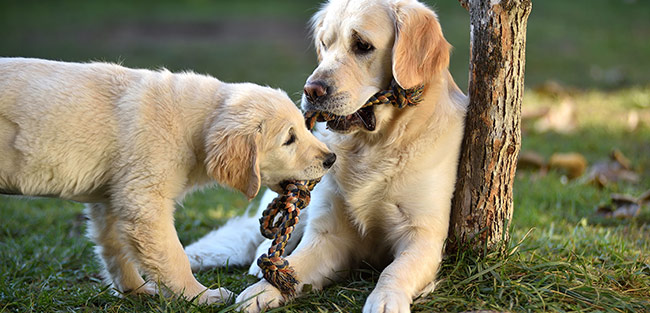 Doggy Daycare is a fantastic way for dogs to build their confidence in a group setting, an important aspect of character building for your pup. When socializing with other dogs, your dog's confidence will help form friendships and reduce poor habits. Similar to traditional daycare, Doggy Daycare allows your pet to enjoy a day a learning and play while meeting friends when you're unable to provide your furry friend with the attention they love and need.
At Northwest Pet Resort, we offer 8 unique play groups that soft dogs based on each individual dog's size, speed, and temperament. Most other doggy daycare facilities only taken size of dogs into consideration, but as a specialized animal facility we understand this method simply doesn't work. Simply considering dog size does not consider dog personality characteristics which can greatly affect how dogs get along. This is why we split our pups into smaller play groups. Our unique method helps each dog enjoy their time during their visit to our resort with dogs that come to play on a day-to-day basis.
Your pup is eligible to start enrolling in our Doggy Daycare from 4-6 months of age and up. All dogs enrolled in our daycare are required to be immunized with all 3 rounds of DHPP or equal, rabies, and bordetella. We require these vaccines to ensure each pup is healthy and happy from drop off to pick up! Health & Safety of your furbaby is our top priority.
There are multiple reasons why Doggy Daycare is a preferred service of Coeur d'Alene dog owners. Below we get into a few benefits of having your dog enrolled in Doggy Daycare at Northwest Pet Resort.
On a daily basis, your pup benefits from interaction with dogs and people - just like humans do. We have curated an environment that teaches good manners and true social expression. Just like humans, dogs make friends too!
When you leave for work or to run errands, often pups start to experience stress and anxiety due to their human companions being away. Doggy Daycare at Northwest Pet Resort allows for your favorite furry friend to stay occupied and entertained throughout the day - so you don't have to worry about your pup having a hard time all alone! Spending time with friends allows your pup to enjoy new experiences, form new bonds with other dogs, and overall create trust and companionship.
At home all alone, your pup is bound to be bored from the moment you leave till the moment you come home - unless of course they get into trouble. Boredom in dogs can lead to forming destructive behaviors. These behaviors include chewing, digging, barking or licking. At Doggy Daycare, your pup's body and mind are active and exercised with engaging play time while you're away.